STIIIZY DOWNTOWN LA
CANNABIS DISPENSARY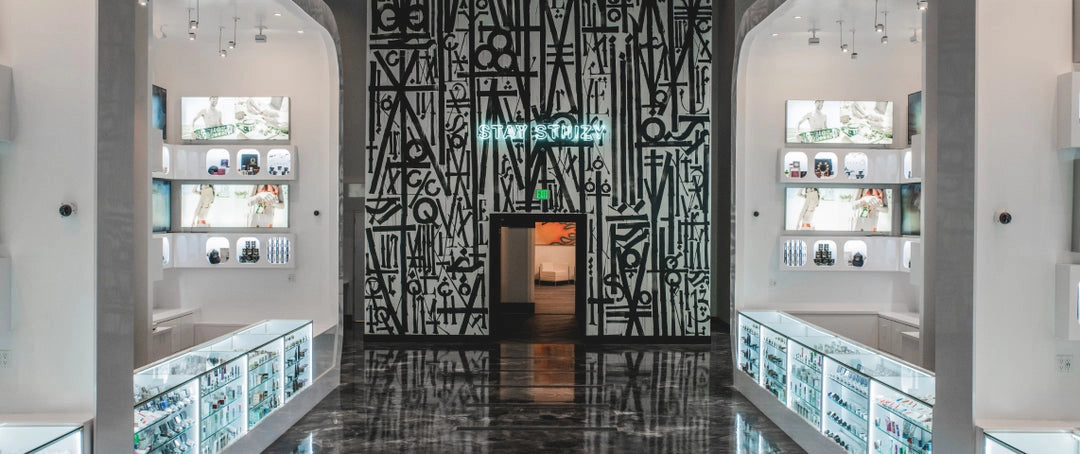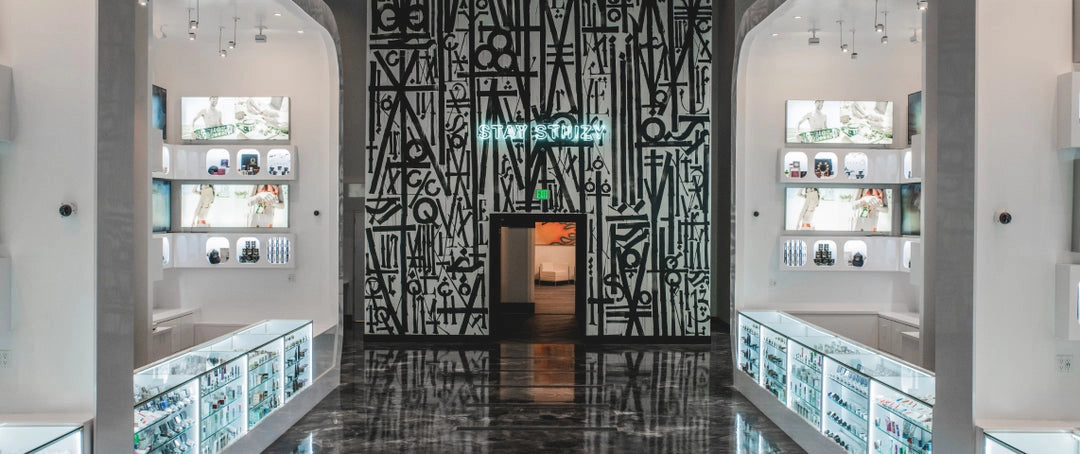 STIIIZY DOWNTOWN LA Weekly Cannabis Specials
About STIIIZY DOWNTOWN LA Dispensary
STIIIZY DOWNTOWN LA Cannabis Dispensary, located at 728 E Commercial Street, Los Angeles, CA 90012, is not your typical recreational cannabis store.
It's more than a store — it's a destination. 
We were one of the first experiential retail locations to open in 2019 that included state-of-the-art visuals. This means from the minute you step onto our marble-esque epoxy floor, you begin a sensory journey as you shop for STIIIZY cannabis products and merchandise against the backdrop of a gallery-style exhibit!
Our STIIIZY downtown Los Angeles headquarters includes a 29-foot installation masterpiece by LA's own world-famous artist Retna, rotating picturesque capsules designed by local and national well-known artists, and a custom LED light tunnel with digital projection mapping.
Seed-to-Sale STIIIZY Weed
You should know where your cannabis comes from. Our grow house and cultivation process allow us to provide you with seed-to-sale marijuana goods.
In fact, STIIIZY DTLA on Commercial Street is one of the largest scale dispensaries in California. We serve a vast amount of communities in and around Los Angeles, including Boyle Heights, Lincoln Heights, Hollywood, Glendale, Pasadena, Burbank and surrounding Southern California cities.
Our premium quality marijuna products, experiential retail lifestyle brand and loyal STIIIZY customers are why we are considered the #1 cannabis brand in California.
Watch this video to see for yourself.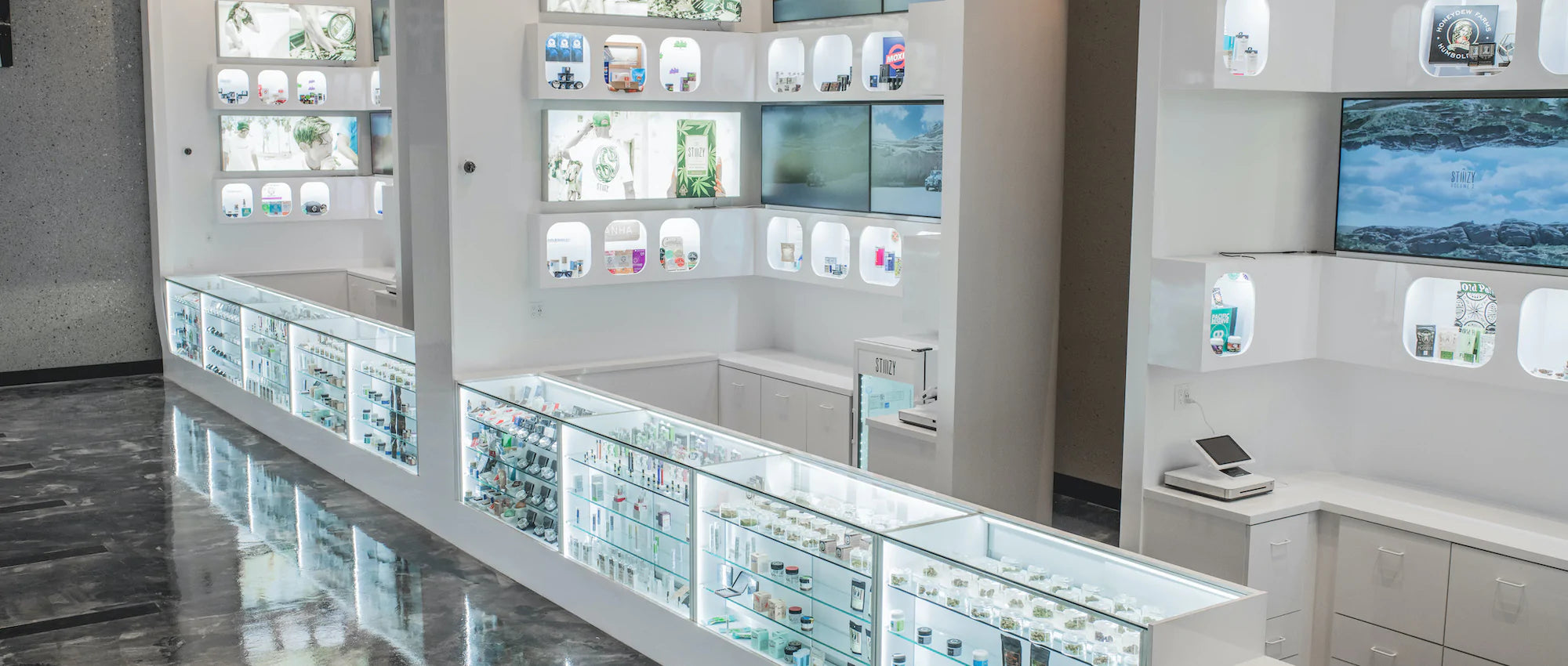 What STIIIZY DOWNTOWN LA Dispensary Customers Say
Super friendly staff, it's a wonderful experience just entering. Super Dope interior presentation and the Budtenders will definitely take care of you with ease. Loved this VIBE!!!

Edgar Flores
Awesome deals here. Not a local, but I live in CA. I had the coolest and most knowledgeable budtender in Marquis. He displayed a level of professionalism that I think is few and far between in the cannabis industry. After my experience here I can happily recommend this store to anyone in the area that is looking for a deal on wax (4g of their diamonds OTD!)

Jason Alan
Beautiful store! All the employees are very courteous and helpful. Very good variety of products and stock!

Tanya Vo
A friend told me about this brand in 2017 roughly a couple months after they launched. He said this was the best vape he had ever had. So I had to try it, we were out on a ride and we came to a stop and I had a steezy for the very first time looking over Santa Monica Mountains. Always since then I've always carried a stiiizy in my pocket!! I travel from the Antelope Valley to Downtown LA to hit the shop at least twice a month. Thank you for a quality product and an awesome facility to get everything I need.

LAV Kanyer
Great experience! Staff is super chill and friendly. Definitely a must and 100% recommended.

Gabriel Padilla
First time is a bit overwhelming. The daily deals are great. They have flavors I don't see at my normal dispensary and they are delicious. If you use Stiiizy or want to, definitely visit. If you just want to smoke flowers that's cool too, you should also visit.

Patrick J. Adie
Really helpful staff and super cute photo booth to take pics at!!!

Adrienne Frie
Before reading this, understand that I am biased. I am a huge fan of this brand already and the fact that they opened up their own shop is amazing to me. The products are beautifully on display in what is easily the nicest and most fun shop in all of Los Angeles. The building is huge and welcoming with friendly staff who have no problem answering any questions you may have whether you're a first timer or a returning client.

Justin Sosa
Just an astounding place , everyone is happy there's no bad vibes. There were 4 separate areas to buy from and covid safety precautions were very well in place, the decor from the front door to the area in the back was amazing and I would say to pop in for a visit just to see the gorgeous showroom. I unfortunately didn't get my budtender's name, but she was extremely helpful.

Byrd World
STIIIZY DOWNTOWN LA Dispensary Google Reviews
STIIIZY Rewards Program
Like sharing with your friends and family? Like getting discounts? Yeah, so do we. That's why we created a rewards program that includes these two options:
1. For every person you refer to our STIIIZY locations, you will get a $3 referral discount.
Note: The referral must happen in person, so load your car up with friends, family, coworkers, neighbors, (whoever's on your list!) the next time you come in.
2. Receive $1 credit for every $100 you spend. 
You can use this accrued credit for any future purchase. Simply ask your favorite STIIIZY Dispensary Sales Associate how much credit you have in your account when you're in the store.
At this time, the STIIIZY Downtown Los Angeles (DTLA) location is recreational only, but we do recognize patients for medical marijuana usage with the proper ID and paperwork.
Yes, we have a variety of different brands that carry CBD products from edibles to vapes to flower to drops to capsules, etc. Learn more on our product page.
The store closes at 10 PM. New customers can come in 15 minutes before closing, and returning customers can come in 10 minutes before we close up. Online orders end at 9:45 PM.
Our friendly, knowledgeable staff loves to help you find your favorite cannabis products, but they also love to go home when it's time.
All sales are final. We can't honor returns or cashback.
We can't accept exchanges unless the items are deemed defective by the store manager where the purchase was made. 
If determined to be defective, the item must be surrendered in its original packaging and within the 7-day window. It will then be exchanged for a replacement of the same item. 
Note: If it's not in its original packaging, we can't accept it.
CA Recs only. We do accept digital forms of Recs. Please email the PDF file to the store directly. You can call the store directly at (323) 929-4201 for more information. 
We do accept out-of-state licenses.
You must be 21 years of age or older and provide proper identification.
Right now, STIIIZY is available in California, Washington, Nevada, Michigan and Arizona. Like and follow us on Facebook and stay updated on new locations!