STIIIZY CANNABIS
DISPENSARY MORENO VALLEY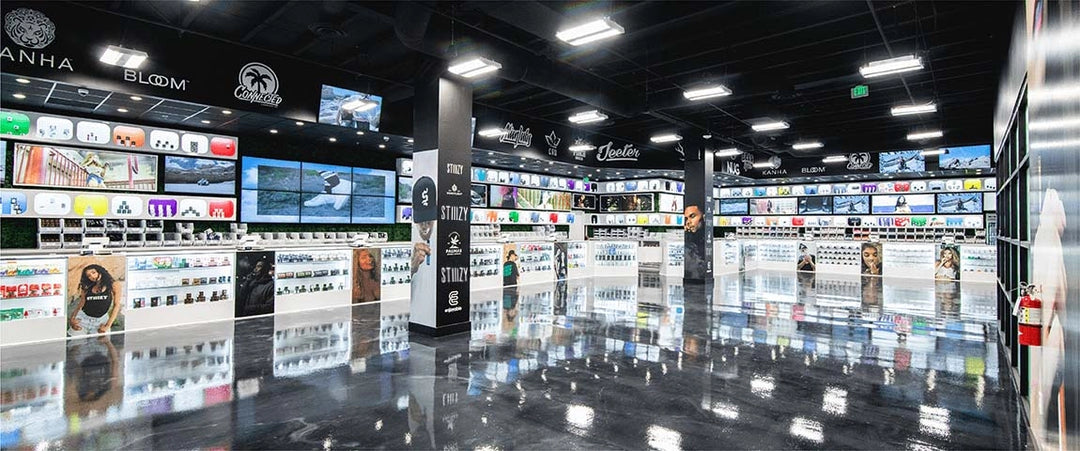 STIIIZY Moreno Valley Weekly Cannabis Specials
About STIIIZY Moreno Valley Dispensary
On January 9, 2021, STIIIZY Moreno Valley, also known as MoVal, opened to the community of Moreno Valley. It is the second STIIIZY location to open in the Inland Empire (after Jurupa Valley) and the sixth retail cannabis store overall for STIIIZY.
Located at 14070 Perris Blvd, Moreno Valley, CA 92553, our weed dispensary in Moreno Valley serves a large area, including Edgemont and Belvedere Heights. It's conveniently located just off I-215 or Highway 60 and close to scenic areas like Box Springs Mountain Reserve Park, Sycamore Canyon Wilderness Park, Moreno Valley Park, Bernasconi Beach and Lake Perris State Recreation Area. 
In true STIIIZY fashion, the store layout was created for the most optimal shopping experience possible. To help with the ambiance and carry on the tradition of incredible art elements in its stores, contemporary street artist Alec Demarco handpainted a special wall mural that is complemented by the dispensary's high ceilings.
Read more about our grand opening of STIIIZY Moreno Valley.
Other STIIIZY dispensaries in the Inland Empire:
• STIIIZY San Bernardino
• STIIIZY Jurupa Valley
• STIIIZY Wildomar
Knowledgeable Dispensary Sales Associates
Our Sales Associates make such an impression, our customers know remember their names. And that's one of our greatest assets—memorable cannabis shopping experiences.
Read what our actual customers have to say about our knowledgeable staff who help them:
"Such a good experience!! It was my first time there and it WON'T be my last. First time buyer deals are great! Melo was my budtender and they were so sweet and helpful. Prices are very reasonable. Walked out with 2 more Gelato strains and that made my day. Please keep Melo." 🙏  - Lauren
"If you can't find what you want in here, then clearly you don't know your cannabis. Every preference I've told the budtender was matched perfectly with every recommendation. It just goes to show that the budtenders here are knowledgeable and experienced. It's always a treat buying cannabis products here and talking with the great staff at STIIIZY." - Emerald Jones
"Anthony or Tony, was really cool. Didn't rush me, showed me options, listened to what I wanted.  Definitely a 5* place for me. You need like an hour minimum to see all the options in this store. Yup, happy!" - Jimmy Lugo
"One of the best dispensaries I've ever been to. It was sooo clean in there! Top shelf pods and kits. Bianca was a great help! She was very knowledgeable on strains and guided me in the right path to get my needs. One of the kindest, helpful budtender that all greets you when you walk in. I got nothing but good vibes when I walked in the door.🚪 Great people here! I'll be back soon to re-up." 💯 - True J.
"The inside of the store immediately caught my eye, it was just so nice in there, and everyone is very friendly. Nina was so knowledgeable, sweet and made it a great first time visit. I was beyond happy with the zkittles live rosin wax she helped me pick, I honestly want to come back to get more of it haha." - Taylor Ladnier
Thanks for our passionate budtenders who are proud of the products we cultivate, who are masters of their craft, and who love providing the best customer experience that keep you coming back. And thanks to those who took the time to review us! 
Read more reviews below.


Cannabis Products in Moreno Valley
Because STIIIZY cultivates its own quality weed, you know that if you buy STIIIZY cannabis products, you know you're supporting the local economy. Shortly after opening STIIIZY Moreno Valley, we introduced our LIIIT Infused Pre-Rolls. 
We also sell items from other popular cannabis brands:
• Baby Jane
• Cann
• Honeyleaf
• Roll Up Boyz
• The Marathon Cultivation
• Dank You
We have a large selection that ranges from flower to vape pens, edibles to concentrates, topicals to gear, as well as exclusive STIIIZY merchandise. 
Choose from over 30 flavors and 49 strains of flower, as well as a multitude of Indica, Sativa and Hybrid goods. Unique about the Moreno Valley store is we also carry edibles that aren't available at our other STIIIZY locations. For example, we have vegan and paleo cannabis edibles, oils, beverages and of course, our gummies, chocolates and candies.
Our premium marijuna products, experiential retail lifestyle brand and loyal STIIIZY customers are why we are considered the #1 cannabis brand in California.
You can learn more about this by watching this video.
What STIIIZY Marina Dispensary Customers Say
First time at this STIIIZY location and honestly loved the experience. I'm from OC and went to Beaumont for a Family occasion and thought I'd make a quick stop. From entrance to check out it was the best, I didn't get my tender's name but seriously a cool guy. I'm short, simple and to the point attitude and he did just that. 🙏🏼

Jesse "bigpoppaah" Medrano
This place has everything you need. I enjoyed the customer service, and they have many many brands and different strains to choose from by price or strains. You will not regret your visit with STIIIZY store in Moreno Valley. Amen, God bless everyone!

Moises Sanchez
This dispensary is off the hook. The ambiance of this place plus their wide great selections of cannabis products is probably the reason why a lot of people come here.

Isabella Kunkle
For only going there twice and for being the only other Stiiizy store I've been to since San Francisco, I'll have to say this one is about 4x's larger than the one in the Bay area. I primarily go there for CBD based products, but I can say with confidence that this specific location will probably have what you're looking for, CBD or THC for it have a wide variety of products to choose from. The staff here are knowledgeable, professional and friendly. They make it feel more like an experience rather than a transaction. Whether you're starting off like me or experienced in using things that Stiiizy has to offer, this place here in MoVal is the one to come to.

Collier Bolton (Kradon Zorgata)
Great people and great staff. They had a large selection of flower/extracts/edibles and tinctures.

EYRAUD RECORDS
As soon as you arrive you're greeted by security who checks your temp to ensure you are covid free and all the staff is very friendly plus very informative on what you're looking for whether it's tree, cartridges, edibles, etc.

Steven Almeyda (SteveO)
Great shop. I love it. 2nd time there and it's great all kind of flower edibles infused pre-rolls etc., it's cheap plus no extra taxes, no extra fees like other shops. Recommended 100%.

Junior Loks
Definitely one of the best dispensaries in So- Cal that I have been to. Well lit, well stocked and with a friendly and helpful staff!

Ross Hennen
Gotta have a dispensary that's got good selections. And this STIIIZY is such. There's always a new product to try. It's kinda exciting that way.

Joelee LaFleur
STIIIZY Rewards Program
Like sharing with your friends and family? Like getting discounts? Yeah, so do we. That's why we created a rewards program that includes these two options:
1. For every person you refer to our STIIIZY locations, you will get a $3 referral discount.
Note: The referral must happen in person, so load your car up with friends, family, coworkers, neighbors, (whoever's on your list!) the next time you come in.
2. Receive $1 credit for every $100 you spend. 
You can use this accrued credit for any future purchase. Simply ask your favorite STIIIZY Dispensary Sales Associate how much credit you have in your account when you're in the store.
At this time, the STIIIZY Moreno Valley location is recreational only, but we do recognize patients for medical marijuana usage with the proper ID and paperwork.
Yes, we have a variety of different brands that carry CBD products from edibles to vapes to flower to drops to capsules, etc. Learn more on our product page.
As part of compliance with the city and state, we have to stop taking guests at 9:45 PM for first-time customers and 9:50 PM for returning customers. All transactions must be completed and customers out of the store by 10:00 PM.
All sales are final. We can't honor returns or cashback.
We can't accept exchanges unless the items are deemed defective by the store manager where the purchase was made. 
If determined to be defective, the item must be surrendered in its original packaging and within the 7-day window. It will then be exchanged for a replacement of the same item. 
Note: If it's not in its original packaging, we can't accept it.
CA Recs only. We do accept digital forms of Recs. Please email the PDF file to the store directly. You can call the store directly at (951) 409-9670 for more information. 
We do accept out-of-state licenses.
You must be 21 years of age or older and provide proper identification.
Right now, STIIIZY is available in California, Washington, Nevada, Michigan and Arizona. Like and follow us on Facebook and stay updated on new locations!