THE ALL-STAR LIST OF WEED STRAINS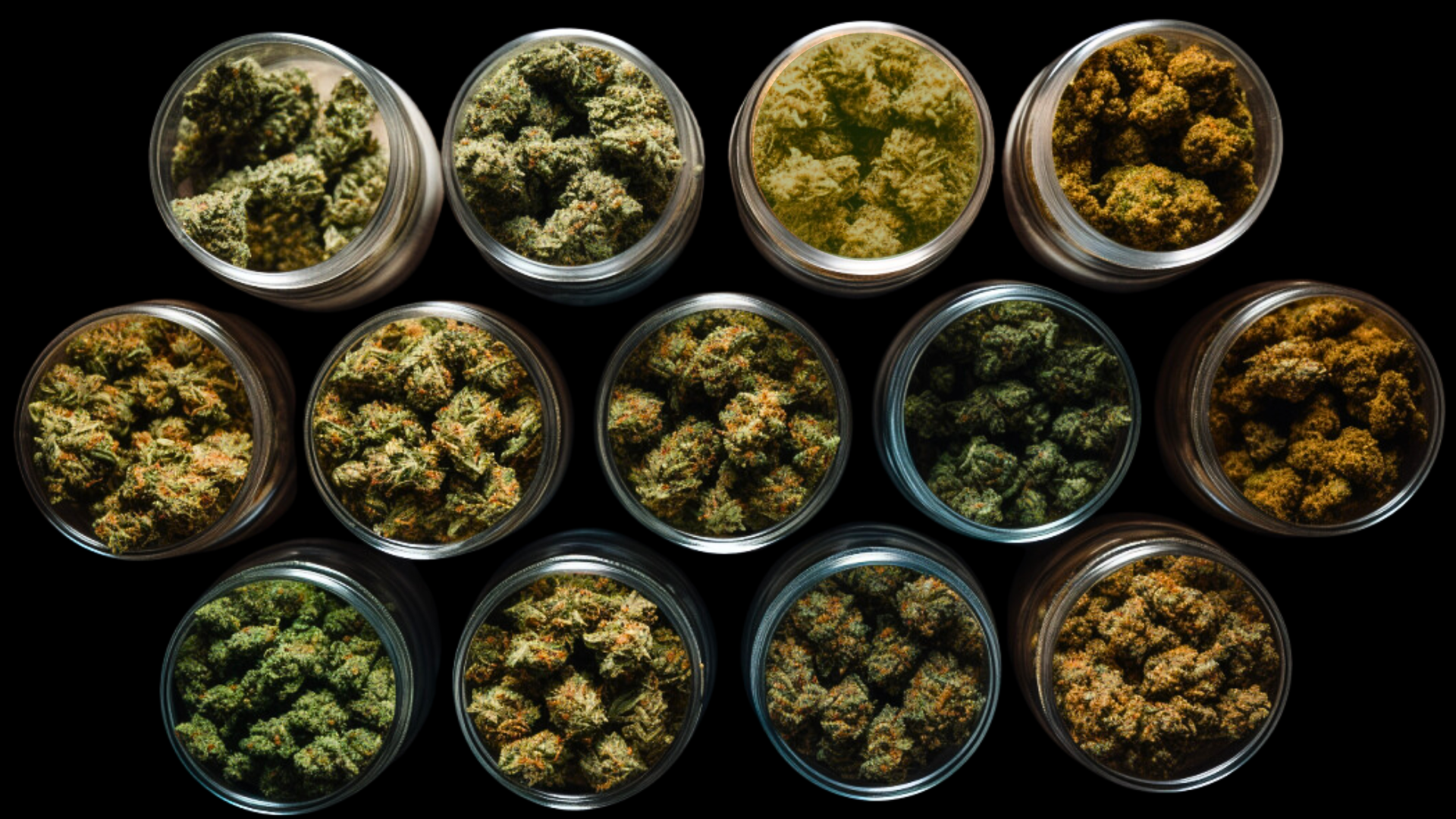 If there's one thing to know about cannabis strains in 2023, it's that each cannabis strain affect people differently. What determines the experience you'll have with any given strain of weed is a very delicate dance between your body's endocannabinoid system and each strain's rich terpene and cannabinoid profiles.
The best way to discover whichof the top weed strains work best for you is to, well, try them. This way, as you become acquainted with a variety of cannabis strains, you'll start getting an idea of which flavors, aromas, and cannabinoid combinations you like best. You'll learn to know if you prefer cannabis sativa or indica strains or maybe a well balanced hybrid.
There are various strains for medicinal use that offer relaxing effects that help with anxiety, stress, muscle spasms, pain or help with treating insomnia. Or different strains that might help with giving you more energy, focus, motivation and creative and mental boost. Once you know what specific characteristics and effects that you desire you can begin to learn the different cannabis varieties you may want. You can also decide what ideal THC percentage you are aiming for or even just what cannabis terpenes you are looking for when you visit a dispensary and get some of the top strains for those.
Eventually, you'll know what to expect from certain strains or a strain based on its lineages, which is a great way to guide your selection, as opposed to choosing at random (which is also fun). The strain game is in the name, as the name of each strain tends to reflect what it was crossed with. But whether you're buying online or in person, most cannabis brands or dispensaries will give you more than just a name, but its terpene and cannabinoid profiles.
That's why STIIIZY is putting together this all-star list of the best strains for recreational and medical marijuana strains to give you an overview of what's out there. If you want to take a deeper dive into each one, just click to read more. And feel free to check out our separate list of 28 exotic weed strains.
This hybrid weed strain is well-known for its uniquely elevated potency and delicious taste. Apple Fritter is one of the most famous hybrid strains, created by the breeders at Lumpy's Flowers. They crossed Sour Apple with Animal Cookies, bringing to life a strain that tastes like an apple-flavored pastry, with its hints of cheese and a peppery, earthy undertone. Users report a potent combo of relaxation, happiness, and euphoria, feeling the high in both their body and mind. Apple Fritter averages with about 24% THC and practically 0% CBD. The main terpenes are Caryophyllene, Limonene, and Pinene.
A legendary strain from legendary breeders, Biscotti was created when the Cookie Fam crossed their famous Girl Scout Cookies with Gelato #25 and a South Florida OG. The result gives the world a sweet and earthy-flavored strain with a high potency that will leave most people feeling a relaxed euphoria in both the head and body. If you want a nice anytime smoke, this strain may be the right one for you. This strain averages about 21% THC with the main terpenes being Caryophyllene, Limonene, and Myrcene.
A high-THC indica hybrid, Black Truffle is known to be a potently relaxing strain that also makes people feel aroused and creative. Its buds kick out notes of coffee, lavender, and blueberries, making Black Truffle quite the treat for any cannabis connoisseur. The smokers say that Black Truffle burns amazingly smooth, so expect a premium experience from this premium cultivar. Averaging about 18% THC and its dominant cannabis terpenes are Caryophyllene, Terpinolene and Limonene.
Blue Cookies is bred from cannabis royalty. Created by crossing Blueberry and Girl Scout Cookies, the hybrid strain is incredibly potent and delectably delicious. With notes of berries, vanilla, earth, and citrus, the complex terpene profile is like a flavor explosion. Regularly testing over 25% THC, Blue Cookies is a knockout strain best consumed after a long day. Blue Cookies averages a THC level of 17% and about 0% CBD. The dominant terpenes are Caryophyllene, Limonene and Humulene.
Adored by the cannabis consumer community for over two decades, this sativa-leaning hybrid cannabis strain is the love child produced by crossing Blueberry, an indica strain, with Haze, a sativa strain. Cannabis consumers love Blue Dream because of the chill body buzz and sparkling mind high it induces. A rich myrcene-dominant terpene profile with notes of pinene, caryophyllene, and terpinolene, imbues Blue Dream cannabis flower with its signature berry-rich, herbaceous flavors. It is not surprise that Blue Dream is one of the most popular, best selling weed strains of all time. It averages about 18% THC and 0% CBD. Myrcene, Pinene and Caryophyllene are the dominant terpenes.
This indica-heavy hybrid offers the ultimate giggly chill-out experience. Its delicious blend of sweet, spicy, and sour offers fruity flavors packed with distinct skunky undertones and peppery pungency. Users tend to report feeling relaxed and happy, experiencing a heady high that gradually drops down through their bodies. People love the Blue Razz Slushie strain for winding down at night on a comfy sofa while watching their favorite shows to lull themselves to sleep. It has an average of 20-30% THC with a terpene profile of Myrcene, Caryophyllene and Humulene.
Cereal Milk is a tasty treat for the folks that love Cookies genetics. Bred by the legend himself, Kenny Powers of Powerzzzup, this balanced hybrid will remind you of eating a sugary bowl of cereal in the morning. Combined with the giggly effects that you feel, it's easy to see why Cereal Milk is a great strain for daytime consumption. This strain was created by crossing Y Life with Snowman. This averages a 22% THC level and Caryophyllene, Limonene and Myrcene are the main terpenes.
Created by members of the famous Cookie Family from the Bay Area, Cherry Pie is a heavily relaxing strain that tastes sweet and earthy that averages a THC level of 16%. Upon consumption, most people feel a mix of cerebral stimulation that becomes a full-body high. The strain's terpene profile is dominant in myrcene, caryophyllene, limonene, and linalool. Expect frosty leaves with green, orange and purple hues from Cherry Pie.
A trichome-laden superstar among marijuana strains, the Gelato strain was bred by none other than Mario Guzman and Jai Chang, two cannabis industry legends. Gelato weaves together the best of Sunset Sherbert and Thin Mint Girl Scout Cookies, matching high THC content with a rich medley of earthy, hoppy citrus flavors and a spicy peppery kick. You generally hear that Gelato infuses its users with a growing sense of relaxation that starts off in the head and then pours down throughout the body. Gelato is another one those popular strains that almost always appears on any list for best selling weed strains especially in 2023. The strain averages about 17% THC and 0% CBD with a terpene profile of Caryophyllene, Limonene and Humulene.
Few strains will ever reach the heights of fame that Girl Scout Cookies enjoys. Called GSC, or simply Cookies for short, this cross of an F1 Durban Poison with OG Kush, is world famous for its sweet, piney, funky, and gassy flavor. It is also famous for its highly euphoric effects that will leave both your head and body feeling relaxed, and your mind feeling happy. GSC is one of the best cannabis strains of all time and it averages about 19% THC level and has a dominant profile of Caryophyllene, Myrcene and Limonene.
Unique in its flavors and effects, GMO Cookies is a Spanish-bred cross of Chemdog D and Girl Scout Cookies. This indica-dominant hybrid screams of pungent garlic and diesel aromas, with an added touch of citrus on the flavor. People can expect a mix of relaxing and uplifting effects from GMO Cookies. Its most dominant terpenes are caryophyllene, humulene, limonene, and myrcene and has an average of 28% THC.
Sticky and potent, the breeders at GG Strains created Gorilla Glue #4 (also known as GG#4 and Original Glue) by crossing Chem's Sister, Sour Dubb, and Chocolate Diesel. This complex mix of genetics results in an indica-dominant cultivar with earthy, nutty, and piney flavors. When consuming GG#4, people can expect a strong physical high that will most likely end in a sedative, couch-locking type of experience. This has a THC levels from 18% to 25% and a terpene profile of Caryophyllene, Myrcene and Limonene.
Bred by Apothecary Genetics, Grape Ape is an indica created by crossing Mendocino Purps, Skunk #1, and an Afghani landrace. Delicious aromas of grape, berries, and earth scream from its buds, making it an excellent strain for anyone that loves fruit-flavored cannabis. You can expect a heavily relaxing body high from consuming this potent strain. Grape Ape's terpene profile is dominant in myrcene, pinene, caryophyllene, and limonene and has an average 18% THC levels.
One of the most delicious dessert trains in the cannabis game, Ice Cream Cake is a cross of Gelato #33 and Wedding Cake. It, like many of the best weed strains in the world, was bred by legendary breeder Seed Junky Genetics. Ice Cream Cake has won many cannabis cups and awards in its time. That's because it's delicious with vanilla, sweet, and berry terpenes, followed by an incredibly relaxing high that will help most consumers get a good night's rest. The terpene profile is Caryophyllene, Limonene, and Linalool with an average THC levels of 22%.
Bred by the famous Seed Junky Genetics, Jealousy is an indica-dominant hybrid cross of Gelato #41 and a Sherbert backcross. Its terpenes give sweet, earthy, and diesel notes that, all in all, make it taste like creamy candy and Gelato. Most people who consume Jealousy feel a big amount of relaxation and euphoria that ultimately leaves you sunk into the couch with a smile on your face. The average levels of THC is 18% and has a dominant terpene profile is Caryophyllene, Limonene and Myrcene.
Named for its kingly THC content, King Louis XIII is a strain with dominant OG genetics. The buds are covered with sticky trichomes and give off a powerful diesel and skunky aroma. Add heat to them and those buds produce a smoke/vapor that tastes like a mix of pine and mango. Once the potent high sets in, expect to feel a heavy relaxation in the body. The main terpene profile is Myrcene, Limonene and Caryophyllene and averages 20% THC levels.
Another banger from Seed Junky Genetics, Kush Mints is a hybrid strain created from combining Bubba Kush and Animal Mints. It is great for anyone looking for a nice midday euphoria that will make them feel relaxed and happy. When you smoke Kush Mints, you'll detect subtle flavors of mint, spice, and lemony citrus. The strain averages a 20-24% THC level and a main terpene Limonene, Caryophyllene and Linalool.
LA Kush Cake is a classic Cali strain. The indica-dominant hybrid is a cross between Wedding Cake and Kush Mints, two super popular and potent strains. With hints of citrus, vanilla, and peppermint, LA Kush Cake offers a flavor explosion similar to an extravagant ice cream sundae. The strain offers intensely relaxing and, at times, arousing effects, making it the perfect way to end the day. The terpene profile is limonene, caryophyllene and myrcene and has average THC levels of 18-30%.
Lava Cake is a decadent dessert strain that makes the perfect after-dinner treat. The love child of Thin Mint and Grape Pie, this indica-dominant hybrid offers a sweet berry aroma and pleasantly zen effects. With moderate THC levels and a complex terpene profile, Lava Cake is great for new consumers and heavy hitters alike. On average the THC levels are 18-22% and the main terpene profile is caryophyllene, myrcene and humulene.
London Pound Cake is an indica-dominant strain that packs a punch. A cross between the delectable dessert strain Sherbert and an unknown indica, London Pound Cake is everything you love about Cookies genetics. With a tangy and sweet flavor profile reminiscent of a rich lemon loaf and powerfully soothing effects, London Pound Cake is one GSC descendant in a league of its own.  The average THC levels are 25-30% with a terpene profile of caryophyllene, limonene and myrcene.
Another notable strain is London Purpz with an average THC level of 24%. Pungent and powerful, the London Purpz strain is a must-try for consumers looking for a top-shelf high. London Purpz is an indica-dominant hybrid with a somewhat murky family tree. The strain is thought to be a cross between London Pound Cake and Mendo Purps, two cultivars with strong indica genes. The main terpene profile is caryophyllene, limonene and myrcene.
Quite possibly the most famous cannabis strain of all time, OG Kush is a California staple with murky origins. Regardless of where it came from, or what its genetics are, the Kushy flavors of citrus, gas, funk, and pine are instantly recognizable. When you consume OG Kush, expect the ultimate euphoria, and a long-lasting goofy type of high that will remind you of why you fell in love with weed in the first place. The main terpenes you can find in this strain is myrcene, limonene, caryophyllene and linalool.
Known for its rich, citrus deliciousness, you may hear that the Orange Cream strain is an indica-dominant hybrid, but it can also lean sativa and averages a 20%THC level. Cannabis plant lovers say the strain energizes the mind while relaxing the body. The offspring of crossing Orange Valley OG with Cookies and Cream, cannabis flower from this delectable weed strain will remind you of a citrus-flavored, cookie-dough dessert. Orange Cream is one of the top weed strains for 2023 (and 2022 as well). The main terpenes in Orange Cream are zesty limonene, earthy myrcene, and peppery caryophyllene.
This heavy-hitting, indica-leaning strain, whose famous lineage makes it an icon in the world of weed strains, is the queen of grapey sweet dreams—a few tokes of Purple Punch is all it'll take to start dozing off and check out for the night. Generally high in THC (averaging 30%THC levels), and in some phenotypes, puts some CBD into the cannabinoid mix, this purple dessert packs quite a punch. Use it when you don't plan on staying awake for long. The main terpenes include caryophyllene, limonene, and pinene.

Rainbow Kush stands out in the world of weed strains with its stunning colors and tropical flavors that contain hints of pine and averages THC levels of 18%. The two main versions, one developed by Amsterdam Marijuana Seeds and the other by Lifetime Seeds, like all the other varieties, are hybrids with equal parts sativa and indica. Both cultivators and consumers rave about this strain's balanced effects, making it suitable for both relaxation and social activities. The main terpenes are myrcene, caryophyllene andd pinene.
If you love an earthy and fruity strain, then get some Slurricane in your lungs immediately. From In House Genetics comes this purple cross of Do-Si-Dos and Purple Punch. Its terpenes give off a complex mix of earthy, diesel, and berry flavors, followed by a couch-locking high that makes smoking Slurricane the perfect way to end your night. Caryophyllene, limonene and myrcene are the dominant terps and it averages 28% THC levels.
Sour Diesel is world famous weed for its citrusy gassy flavors, and the incredibly stimulating head high that comes from smoking it. If you love a good daytime high that will put a productive pep in your step, this strain is the one. Expect energetic effects that will make running through the day's task list much more manageable. The terpene profile is caryophyllene, limonene and myrcene with THC levels averaging at 17-26%.

Also known as Strawberry Banana, this hybrid strain is beloved for its fruit-forward flavor and zen-like effects with average THC levels at 21-28%. Strawnana was first created by DNA Genetics, which crossed Bubble Gum with Banana Kush. The terpene profile includes limonene, myrcene, and caryophyllene which combined offers a berry-sweet aroma with hints of earth and spice. Offering a pleasant and relaxing high that's potent but not overwhelming, Strawnana is a perfect strain for any occasion.
Decadently sweet and creamy, Vanilla Runtz offers a sugar-rush sure to please and averages about 22% THC levels. This upbeat hybrid, a cross of Runtz and Vanilla Frosting, transports consumers back to a simpler time. The robust terpene profile, including myrcene, terpinolene, and caryophyllene, offers a candy-sweet smoke sure to get you buzzed. Vanilla Runtz is the perfect strain to enjoy with friends, as many users report feeling chatty and giggly after just a few puffs.
Wedding Cake is easily one of the most popular strains in recent history. A delicious cross between Animal Mints and Triangle Mints, Wedding Cake (sometimes called Pink Panties or Triangle #23) is a consistent best-seller thanks to its hyper-potent effects. Typically testing well over 25% THC and also sometimes containing up to 1% CBG, this hybrid strain offers consumers a big bang for their buck, always leaving them wanting another slice. The main terpenes in Wedding Cake, which give the strain its unique flavor, aroma, and effects, are caryophyllene, limonene, and myrcene. The result is a deliciously sweet palette with just a hint of spice, offering notes of creamy vanilla frosting flecked by pepper and citrus.
An uplifting and cerebral sativa hybrid, White Durban has a dynamic terpene profile thanks to its storied genetics. Bred by the team at Fireline, White Durban is a cross betweenWiFiOG and the African landrace strain Durban Poison. The leading cannabis terpenes in White Durban are terpinolene, pinene, and caryophyllene. Terpinolene, a rare terpene often considered the most psychedelic, leads the pack in terms of White Durban's effects. This strain averages 23% THC levels.
If you love weed that tastes like earthy gas, then say hello to White Truffle, your next favorite strain. Bred by Michigan's Fresh Coast Seed Co., this cultivar is a phenotype of a Gorilla Butter (Gorilla Glue #4 x Peanut Butter Breath) backcross. Consuming it will most likely make you feel a mix of relaxed, aroused, and happy effects. White Truffle has an average THC level of 25% and a terp profile of caryophyllene, limonene and humulene.
A newbie but goodie, the indica-heavy Zelato strain (aka Z'lato) is breaking into the scene with all the giggle-happy magic, smile-making pizazz, and chill-out vibes of its (believed to be) parents: Z'kittlez and Gelato. Its unique terpene makeup features a flavor profile of peachy, berry, and woody tones. You'll often hear that the Zelato strain induces a splendid mixture of euphoria, happiness, and relaxation to light up the party with nonstop laugh attacks. The primary cannabis terpenes in Zelato are typically caryophyllene, linalool, and humulene, with small amounts of limonene also making their way in and has an average of 25%THC.

COMING SOON:
Birthday Cake

Blue Burst

Blueberry muffin

Cherry Sunset

Dosi-Punch

Galactic Gas

Galactic Glue

Gelato 41

Grape Pie

Lemon Cake

Mac 1

Papaya

Peach Gelato

Pineapple Express

Purple Haze

Skywalker OG

Strawberry Cough

Sunset Sherbet

Super Glue

Wedding Crasher

Wedding Pie

White Runtz
---